WHAT's GOING ON AT EMERGENCE?
Check in here to get info on anything announced at Emergence each week:
JOIN TOGETHER FOR A NIGHT OF WORSHIP ON FEBRUARY 26th
Lent is a time of preparing our hearts to celebrate Jesus' resurrection well. We're going to begin our season of preparation with a worship night together in Totowa. Mark your calendars to be a part of it on February 26th at 7pm!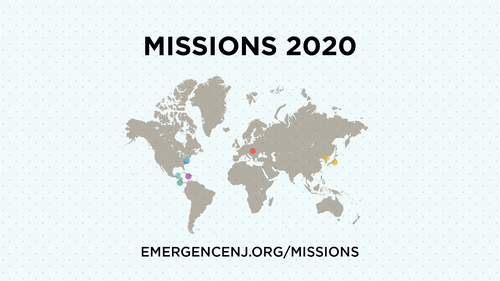 BE A PART OF A MISSION TEAM THIS YEAR!
At Emergence, we're thrilled to have the opportunity to partner with many teams and their organizations. We have 9 trips heading out this summer around the world to join our missionaries and partners in the field and grow as we share Jesus! If you would like more information about any of these trips, click the button to the left!
STARTING POINT STARTS THIS WEEK!
If you're new to Emergence, new to studying the Bible or even just new to faith, we have a special Community that meets here on campus called Starting Point.

It's casual, approachable, and a comfortable place to explore the foundational truths of who Jesus is and why we can trust the Bible.

For now, Starting Point is available at the Totowa Campus, and will begin on January 26th.

Bring your questions, and bring a friend! To get more info or to signup, click the link below:
GET READY FOR SNOW CAMP! STUDENT WINTER RETREATS
If you have a student in Middle School (5th-8th Grade) or High School, there is probably no better way to help them connect and grow than to take a step of signing up for a youth retreat! We're heading to Camp Orchard Hill in PA for a great weekend of great teaching, great connection, fun, food, indoor and outdoor activities, and memories. Here are the details:

Middle school retreat weekend: Friday January 31st - Sunday February 2nd. (Deadline to register is Jan 27th)

High school retreat weekend: Friday February 21st - Sunday February 23rd (Deadline to register is Feb 16th)

Registration is open online. Spots are limited so register soon!
COMMUNITIES BEGIN THIS WEEK!
It's a new year and our next season of Communities is beginning Sunday Jan. 26th!

If you aren't yet connected to a Community, we'd love to help you find one and join in with us as we study together through the prophecies of Jesus found in Matthew.

Communities are small groups that meet in homes all around our area and help people to connect, learn, and grow.
SIGN UP TODAY FOR THE NEXT DISCOVER EMERGENCE!
If you're new to Emergence, or have been around for a while and are yet to plug in... or maybe you'd like to become a member... Discover Emergence is for you.

It happens every month (in Totowa... a little less often at the other campuses) and there's a new round starting soon. Come find out more about Emergence, and explore what it means to be a part of what's going on here.

Sign up today through the link below!
OUR NEW MEMBER CANDIDATES
Membership is an important part of what it means to be healthy in our life of faith. It's biblical, beautiful, and part of what God uses to advance His mission as we walk in unity!
The following people have completed Discover Emergence and finished the process of membership here at Emergence. The final part of that process is to be listed here in the bulletin for 3 weeks.
If you know of any reason any of these candidates should not be accepted into membership, please let us know by emailing
[email protected]
.
Ariel Almonte
Maria Almonte
Mary Backer
Lynda Buckley
Dave Conte
Sandy Conte
Joanne Fucetola
Susan Gioia
Tammy Goraz
Jesus Guevara
Dariem Hernandez
Yazmina Hernandez
Jacob LoCascio
Caroline Longa
Rosine Longa
Kevin Margroff
January 19 Offering

Last Week's Offering: $55.1k
Last Week's Need: $59.3k (-$4.2k)
Year-to-Date Giving: $1,949.3k
Year-to-Date Need: $2,022.9k (-73.6k)
20|20 Vision Campaign Update

Total Intentions-to-give: $3,212.8k
To-date Received: $2,615.2k
Amount needed to meet goal: $1,884.8k