We're LIVE every Sunday at 9:30am and 11:15am
Welcome to the Digital Bulletin
You can now watch on-demand services through our streaming service. Rewatch your favorite part of the sermon, worship at-home with the music set, or take in the whole service whenever you'd like.
Looking for live, digital service?
We are streaming right
here at our online church
link and
YouTube
at our usual times: 9:30am & 11:15am. Join in to view the service, and be encouraged by interacting with others who are joining in worship with you!
THIS WEEK'S RESOURCES FOR KIDS AND STUDENTS:
Our eKids team has put together lessons and resources for today's digital service. Click the links below to access them!
ELEMENTARY VIDEO LESSON & PRE-K LESSON
Each week our Student Ministry Team puts together online lessons and then participate in small group discussion pointed toward Jesus and the Gospel in our daily lives.
If you'd like to connect with the middle school or high school small groups in person or on Zoom, contact Sean McInnes, our Student Director using the button below:
Easter was such a blast. It was a blessing to gather with so many safely outdoors and join together in praising Jesus. Following Easter, the door opened up to us to continue to gather outside in Totowa for another 6 weeks! From April 18 to May 23, we'll be continuing to meet outside. BYOchair and join in (no registration needed, but eTown registration is still necessary!)

For now, Ringwood will continue to meet inside. We'll keep you updated if any of that changes!
WE'RE CONTINUING TO GATHER IN PERSON!
We are continuing to meet in person for worship services. From 4.18-5.23 the Totowa Campus will be meeting outside!Registration will not be required for outdoor gatherings. For now, Ringwood continues to gather indoors, meaning registration is required for Ringwood Campus.
Obviously, because of COVID, we have to take some precautions for indoor services, and one of them is limiting our capacity to 50% of our normal seating. Space is limited, but you can still come out and join in with others.
In order to be a part of our in-person indoor services, you must pre-register.Register yourself (or your whole party) by filling out the form using the links below. You'll receive a confirmation email when we receive your form.
We will still stream services live at 9:30am & 11:15am on
Our Website
and
Youtube
!
PLEASE NOTE:
Our children's ministry, eTown, has begun to reopen! Pre-registration is needed to have your children participate, and space is limited. See below for the children's ministry registration!
You can register your whole party on one form
Registration is listed below by campus. Make sure you choose the right one!
Masks MUST be worn at all times inside of the buildings where we gather. No exceptions can be made
There will be a place to check in when you arrive
Anyone not pre-registered will not be permitted in unless there is still room under our capacity limits once service begins
Registration for Sundays begins the prior Sunday and ends on Friday. Be sure to register during the open registration window!
TOTOWA CAMPUS
Meets at 9:30am & 11:15am
From April 18 through May 23, Totowa Campus will be meeting outside! There is no need to register to attend services!

**NOTE** If you would like to have your children in eTown, registration is required weekly. See below for eTown registration!
Meets at the Totowa Campus
930 Riverview Drive, Suite 500
Totowa, NJ
RINGWOOD CAMPUS
Meets at 9:30am & 11:15am
We are providing a separate seating area in the Ringwood lobby for families to enjoy in-person services at their own table. Children's table activities are provided.
Meets at the Ringwood Campus
30 Carletondale Road
Ringwood, NJ
See below for children's ministry registration!
Our kids ministry, eTown, is reopening on April 11th!
During this phased reopening, the infant and toddler nursery is not yet open, but kids ages 3 through 4th grade are eligible to register! Space is limited.
Pre-registration is required prior to Sunday to participate. Use the links below to register!

PLEASE NOTE: Totowa and Ringwood eTown is currently only available at the 9:30am service. Stay tuned for continued rollout of new openings!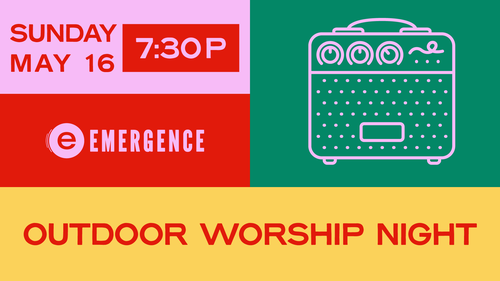 WHILE WE'RE OUTDOORS, WE'RE GONNA MAKE USE OF IT!
Join in for a night of worship on Sunday May 16 at 7:30pm in Totowa!
We've got the stage. We've got the lot. We've got the opportunity, and we don't want to miss it! Come be a part of a night of worship with the Emergence Band on Sunday, May 16th outside in Totowa.
We'll praise Jesus, celebrate what He is doing, and enjoy raising our voices to Him together.

Since it is outside, no registration is needed, and no masks are needed outside. Bring a chair, bring a mask (to go inside and use the restroom), and bring hearts ready to praise!

WE'RE GOING TO BEGIN BAPTISMS!
If you're a Christian and have never been baptized since placing your trust in Jesus' work--now is the time!
2020 may have tried to disrupt us all, but Jesus is still saving, and there is much to tell about His great work!

If you have trusted in Jesus but never proclaimed His salvation through Baptism, could there even BE a better time to do it?

We're going to begin baptisms in the next few months--and you can be a part of it. Simply click the link below. You can work through a virtual process and then be baptized to give praise to Jesus both in-person and online!

Click below to get started. We're about to hit a great season as a church!
April 25 Offering
Last Week's Offering: $57.8k
Last Week's Need: $70.6k (-$12.8k)
Year-to-Date Giving: $2,769.3k
Year-to-Date Need: $2,992.9k (-$223.6k)
20|20 Vision Campaign Update
Total Intentions-to-give: $3,204.7k
To-date Received: $3,055.8k
Amount needed to meet goal: $1,444.2k